Captain Colin Frank Williams MC
Colin Williams, a clerk in the RIT office from around 1936, was given leave from the RIT to enlist on 5 September 1940. At the Board Meeting on 23 September 1940 his enlistment was acknowledged and a guarantee was given that his job would be returned to him after the war. He enlisted at Keswick into the 2/48th Battalion which was in the process of formation and entered the army with the rank of Lieutenant due to his prior involvement with the 48th Militia Battalion. Colin was a keen local sportsman and was mentioned often in the Renmark cricket and golf reports. He was a past student of Renmark Agricultural High School[1] and his family lived in Renmark for 13 years from 1922 to 1935.[2]
Following a period of training at Wayville in Adelaide the unit was given pre-embarkation leave from Thursday 17 October 1940 to Tuesday 22 October. He returned to Renmark immediately and on Friday 18 October he married Gweneth Yvonne Saies, daughter of the late Mrs F.W. Saies, at St Augustine's Church. The church was decorated by friends of the bride, Mrs A E Sage, Mrs N Hagley, Miss C Riedel and Miss Mollie Saies. 'A guard of honour was formed by members of the Renmark Transport Unit, of which the bride is a member, and men of the 48th Militia Battalion. About 40 guests were entertained at a reception, held at the home of the bride's aunt and uncle Mr and Mrs R.N. Saies.'[3] On the night of Monday 21 October Colin and Gwen Williams were absent from the Renmark Institute where a crowd of 500 people had gathered to farewell around 20 local soldiers also set to embark. Instead Colin's parents, Mr and Mrs R A Williams, accepted gifts of a propelling pencil and cigarettes from the Mayor of Renmark and socks from the Comfort Funds Committee on behalf of their son.[4]
On Tuesday 22 October Lieutenant Williams returned to his unit and Gwen Williams to the new family home at 64 Murray Avenue[5], Renmark. On 7 November, less than 3 weeks after the wedding Lt Williams embarked with the 2/48th for the Middle East. The Battalion was soon involved in action in North Africa in what became known as the Benghazi Handicap. Axis forces were forced to the west across North Africa until German reinforcements halted the push and then forced the Allied units, mainly the 9th Division, back towards the East. They made a stand at Tobruk where the 2/48th remained from 10 April 1941 to 12 October 1941. During the Siege of Tobruk the defenders became known as the Rats of Tobruk and the 2/48th began a reputation that led to it becoming the most decorated Australian battalion of the Second World War. Lieutenant Colin Williams was promoted to Captain on 16 April 1941.
Following the evacuation of the battalion from Tobruk in October, Christmas 1941 and the early part of 1942 were spent in Palestine recovering and rebuilding. The 9th Division then returned to North Africa, this time to halt the advance of Rommel's army towards Cairo in the battle of El Alamein. One of the precursor battles to El Alamein was for the strategic Tel el Eisa ridge and railway station on 10 July 1942.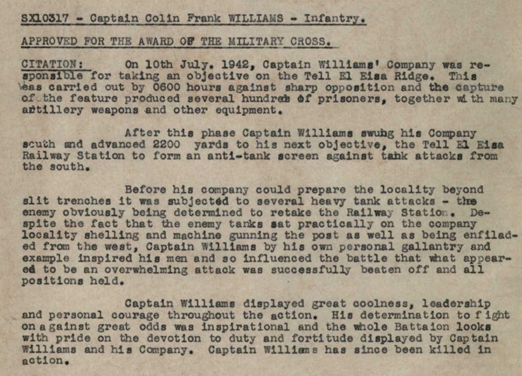 Captain Williams never learned of his bravery award as he was killed in action as the battle continued at Tel el Eisa twelve days later on 22 July 1942. His body was later moved to the El Alamein War Cemetery.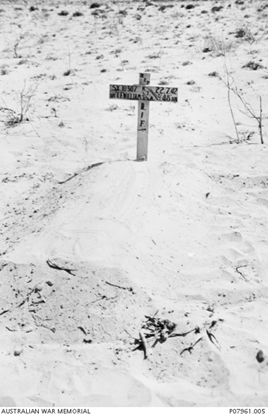 Gwen Williams was presented with Colin's Military Cross in May 1945 at Government House in Adelaide. She married Lieutenant Rollo Treloar of Broken Hill on 15 November 1945.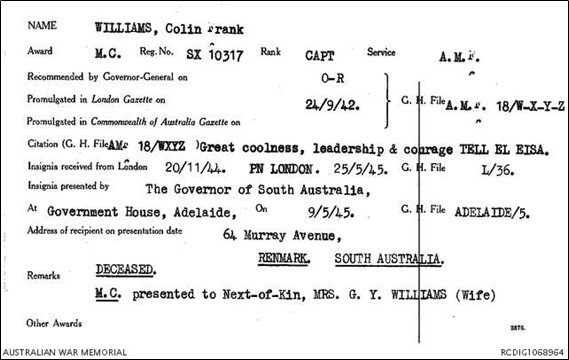 Thanks to Geoff Bull for compiling the research and drafting this article in November 2020. Please contact the Trust Office with any comments or additional information.

---
[1] Murray Pioneer and Australian River Record, 30 Apr 1942, Anzac Observances at Schools, p5
[2] Ibid, 14 Feb 1935, After Thirteen Years, p10
[3] Ibid, 24 Oct 1940, Williams-Saies, p12
[4] Ibid, 24 Oct 1940, Soldiers on Leave Honoured, p9
[5] Murray Avenue North was renamed James Avenue in 1949. Prior to that time even numbered properties were in Murray Avenue North and odd numbered properties in Murray Avenue South.